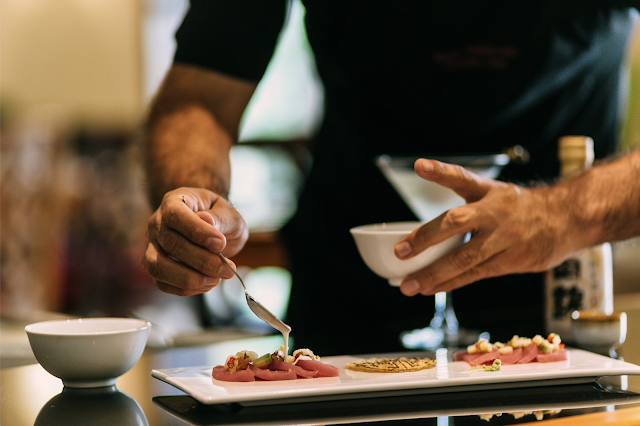 FESTIVALS CELEBRATING FOOD AND HEALTH DURING THE MONTH OF NOVEMBER IN VALLARTA-NAYARIT
November is the perfect month to visit Puerto Vallarta, in the state of Jalisco, and Riviera Nayarit, in the state of Nayarit, for some much-needed TLC. As winter creeps in, Mexico's Pacific Coast is enjoying sunny and warm weather along with 2 impressive gourmet and wellness festivals – the best way to rejuvenate after a long year!
XXV Festival Gourmet International (19th – 24th November)
The Festival Gourmet International celebrates 25 years of putting Puerto Vallarta, Riviera Nayarit and Tepic at the top of international gastronomy this year!
Leading international chefs showcase new ideas for amazing food and more than 30 restaurants and hotels will come together to turn their destinations into exemplary exhibits of fantastic gastronomy, entertainment, culture and tourism in Mexico.
Don't miss the glamorous opening celebration on the 19th November in the luxurious Vidanta Resort, where you can meet all invited guest chefs, local chefs and celebrities from the hospitality industry and enjoy a multitude of gourmet culinary delights.
Visit festivalgourmet.com for more information.
Puerto Vallarta Free Soul Festival (29th November – 1st December)
Want to immerse yourself with yoga, music, meditation and community in one of the most beautiful destinations? Puerto Vallarta Free Soul Festival is the ultimate place to connect with nature, your inner self and others. The festival's core draws on the natural elements that surround us, with water, fire, wind and earth all playing their part in this experience.
The happening of wellness heaven brings the most recognised yoga and meditation masters, part of a great worldwide community, to Puerto Vallarta. You can look forward to the likes of Robin Martin, David Kyle, Jacob Manning, Gerson Frau and Pablo Quiroga!
Private and public lessons pop up at different parts of the city throughout the day and evening. Musicians well known to the wellness scene, such as Javier Bautista – Sadahaka Healing Sounds, Dj Taz Radish, Amayama and Raoul Diaz-Kirtan, uplift the festival even further.
For more information visit freesoulfestival.com.